Retirement & Income Planning Seminar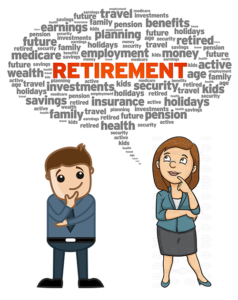 Location:
Glenview Public Library
1930 Glenview Road
Glenview, IL 60025
Cost: Free !
Google Map
Seminar Dates:
Wednesday, June 26 • 7- 8:30pm
Saturday, June 29 • 11am-12:30pm
To register, use the form on this page or click here.
Will you run out of money in retirement?
Please join me to discuss the following important topics for retirees and those planning to retire in the next 5-10 years.
• Investing strategies to grow your grow and protect your portfolio against stock market volatility
• Analyze the four major retirement risks and how to plan for them
• How to create a guaranteed stream of income that you cannot outlive
• Planning techniques and claiming strategies to maximize your Social Security benefits
• Current changes to tax laws and Social Security that can affect your retirement income
• Combining Social Security benefits and qualified account distributions (RMDs) to maximize income and minimize taxes
… and much more!
About your presenter
Glenn Farkas – President, Avista Wealth Management
Mr. Farkas has over twenty years of combined experience in sales, consulting, investments and wealth management. For the past ten years at Avista, Glenn has been delivering comprehensive financial advisory services and solutions to his clients, helping them plan ahead for their short-term needs and long-term financial goals. He is committed to his client's success and provides essential financial services such as portfolio and risk management, insurance and retirement planning. Mr. Farkas is a dedicated financial coach, and his extensive experience as an investment professional and advisor enables his clients to make smart financial decisions throughout their lives.
Prior to Avista, Mr. Farkas served as an investment advisor with Orion Capital Management in Winnetka, IL. He also served as a Vice President in the Institutional Equity Department for Credit Suisse in both New York and Chicago, providing portfolio consulting services to mutual, hedge and pension funds. Mr. Farkas also worked for HOLT Value Associates in Chicago, a global equity research and consulting firm, as well as a joint venture between HOLT and Deloitte & Touche. Mr. Farkas began his professional career with Shell Oil Company in Houston. He received his masters of science in finance from DePaul University and a bachelor's degree in finance and marketing from the University of Cincinnati. At UC, Glenn was also a three-year letterman at quarterback for the Bearcats. He holds the Series 7 and 66 securities licenses and is also licensed to sell insurance in IL, WI, OH and NC.
Glenn and his wife, Pauline, have two children and reside in Glenview. He is an avid tennis player and enjoys spending free time at home with his family and watching his children's high school sports and activities.
Location Details: The Seminar will be held in the Multipurpose room which is in the outside lobby right before you enter the library. It is just across from the reception desk. Look for the Avista Wealth Management sign outside the Multipurpose room door.